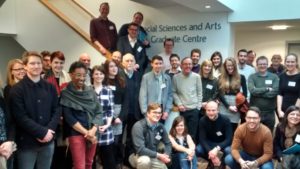 This year HOTCUS is ten years old. We have grown from a membership of 24 to ten times that number, with members drawn from Britain, Europe, North America and beyond. Having initially offered only an annual meeting, we now organise three annual events (an annual conference, a postgraduate conference, and a thematic winter symposium), article and postgraduate paper prizes, a suite of travel awards for postgraduates and early career researchers, and a new mentoring programme for scholars at every stage of their career. Existing primarily to facilitate and promote scholarship of twentieth century American history, we also serve as an important advocate for the profession, and, as illustrated by our recent survey developed in collaboration with BrANCH and BGEAH, a forum for reflecting critically on both its current status and future challenges.
To coincide with the tenth anniversary of our inaugural conference, HOTCUS is encouraging members past, present and future to give a minimum of £10, above and beyond your regular annual subscription, to support us and our future growth. Perhaps you were there in London, June 2007, for our first exploratory meeting? Perhaps you are grateful for a travel award that enabled you to complete the research for your PhD, or the opportunity to present your first research paper in a welcoming and supportive environment? Perhaps you want to help us explore new issues and drive new campaigns, such as outreach initiatives with schools in disadvantaged communities, the status of teaching fellows and those employed on temporary or sessional contracts, or issues of equality, diversity and inclusion within the profession?
Discover more about the origins of our organization.
How HOTCUS builds scholarly communities
Learn how HOTCUS helps researchers build connections and networks across borders, fields and career stages.
Find out how HOTCUS enables postgraduate and early career scholars to access new sources and pursue high-quality and innovative research.
Please give a minimum of £10 to support the future of HOTCUS. To donate, please use the link below.