The 2023 Winter Symposium "1963: A Watershed Year?" was held at the The Rothermere American Institute, Oxford on February 24, 2023, featuring precirculated papers and discussions with colleagues on a variety of themes related to the year 1963. The schedule of the day's events is as follows: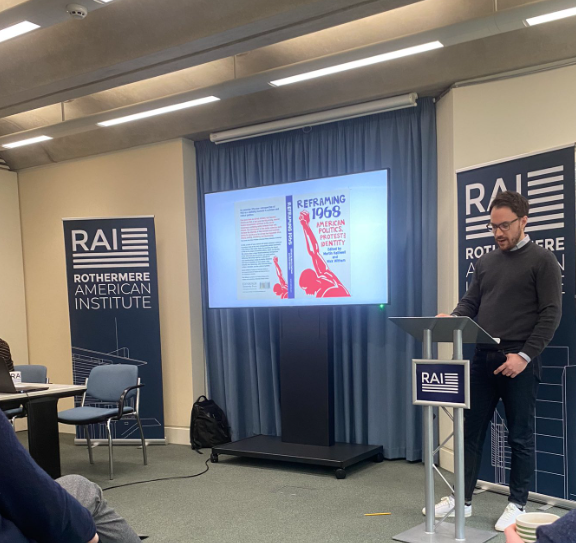 9-10.30am: Plenary address
Dr Nick Witham, UCL Institute of the Americas: What Makes a Watershed? The Calendar Year as a Useful Category of Historical Analysis
10.45-12.15: Panel 1: Media, liberalism, and the turbulent 1960s
Chair: Kendrick Oliver
Emily Brady, "20,000 I's are here!": Photographic Perspectives on the March on Washington
Sage Goodwin, Two Revolutions: Civil Rights and Television News
Daniel Geary, The New York Review of Vietnam
1.15-2.45: Panel 2: Shifting expectations: history, representation, and memory
Chair: Nick Witham
Megan Hunt, Fighting Jim Crow at the Box Office: Cinema, Culture, and the Civil Rights Movement in 1963
Tom Cryer, The Dilemma of the Exceptional: John Hope Franklin, The Emancipation Proclamation Centennial, and Black History's Popularisation Dilemmas in 1963
Miguel Hernandez, "We Had Nightmares for Years": Surviving the Trauma of the 1963 16th Street Baptist Church Bombing
3.15-4.45: Panel 3: Political shifts and group identities
Chair: Tom Tunstall-Allcock
Elizabeth Rees, The Personal is Political: The Feminine Mystique, Second Wave Feminism and the Politicization of the East Wing Staff in the Wake of 1963.
Tim Galsworthy, The 1963 Republican Civil War: Historical memory, civil rights, and the transformation of the GOP
Mori Reithmayr, Birmingham's queer afterwaves: The birth of gay electoral power in San Francisco
5.00-6.00: Panel 4: Concluding roundtable – reconsidering narratives of the watershed year
Chair: Megan Hunt
Fabian Hilfrich, The Kennedy Withdrawal Thesis: A perfect teaching tool
Uta Balbier, 1963: A Secular Watershed?